Well, I am sure it happens sooner or later to every stamper. That brightly shining moment from which there is no turning back. That's right; I just discovered GLITTER. I started off small, adding a tiny little star to my
Celtic Christmas cards
with a Stardust clear glitter pen. Then my
Nativity card
had LOTS of Stardust glitter pen to show the rays of starlight falling on the scene. But now. . . I've moved on to the hard stuff, the real deal. . . loose glitter and glue.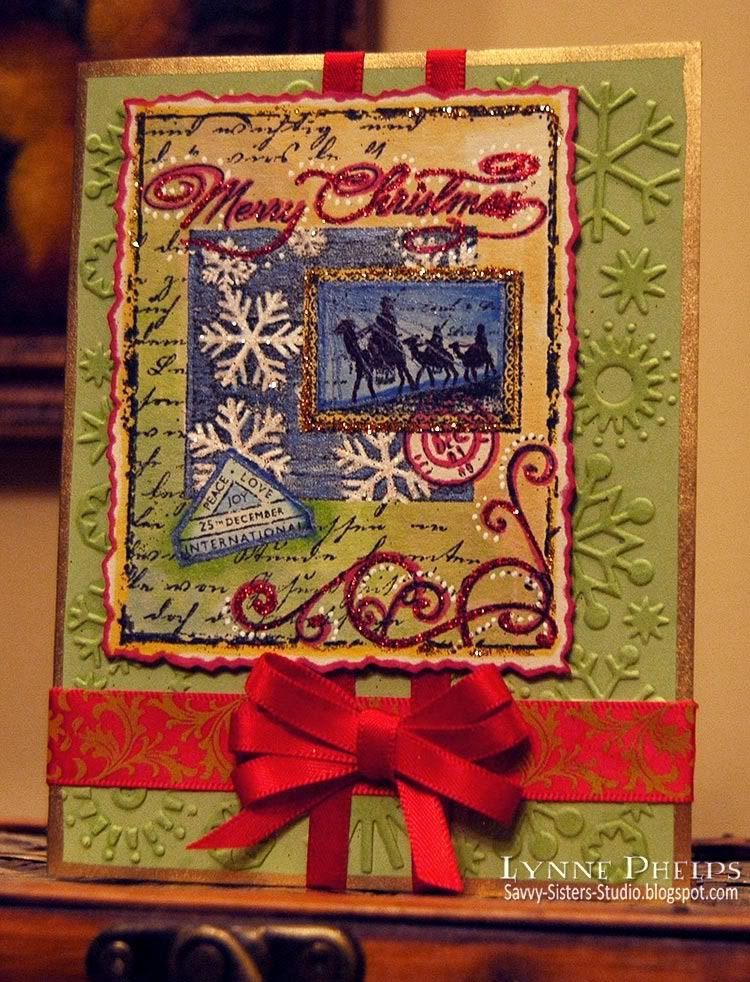 The base is green SU cardstock - I am afraid I don't know the name of the color. Celery maybe? I hate it that they don't put the labels on the cardstock packages anymore. I embossed it with the original Cuttlebug snowflake embossing folder. I wanted to bring out the raised areas - normally I'd hit it with a VersaMark Dazzle pad, but I was afraid any stray glitter would stick to it like crazy! I also wanted a little more yellow color in the green, so I hit the raised areas with Y000 which warmed up the green just enough! A flourished red ribbon and a narrow satin ribbon with a triple loop bow (thank you Bow-Easy!) and Krylon gold leafing pen around the edge finished it off.
I love collage stamping - I do a lot with the emboss-resist technique. When I saw this series of collage stamps by Hero Arts, I couldn't resist - look at all the assemblage work they had done for me! I colored it with Copics and added white dots to accent the flourishes, then used a Tombow glue pen and added Stampendous red glitter and Art Institute gold glitter. I have to say, there are big differences in glitter - that Art Institute stuff is amazing! I also used a dark blue Sakura Stardust pen in the wise men postoid and in the snowflake backgound. I trimmed it out with a deckle scissors, ran a red Copic marker around the cut edges and mounted it on pop dots.
Here is the back of the card. I got this neat personalized unmounted stamp on eBay! This seller is in Malaysia, the prices are wonderful and I was pleased with the transaction. They are by
Loongchai74
and you can see
all the options here
. He sent me proofs of the artwork before he made the stamps, and did not charge extra for custom artwork. I also got a wonderful circular address stamp for my envelope flaps. Just wanted to share in case any of y'all are looking for this kind of thing - it makes me really happy every time I see my new stamp, only now I want to order another that includes my blog address!
So, I need to know. What kind of glitter do you like best? Are there better glue pens than the Tombow? I had a hard time keeping a smooth flow of glue - I kept having to tap it and scribble to get it flowing again. I'd like to find a glue pen that flowed really smoothly. Please leave a comment and let me know!
I also have glitter EVERYWHERE. The cats are sparkling, and how it got in MY hair I do not know! Hmmmm. I think I feel some STICKLES coming on! :-) Leave a comment if you have any glitter management tips for me, LOL!