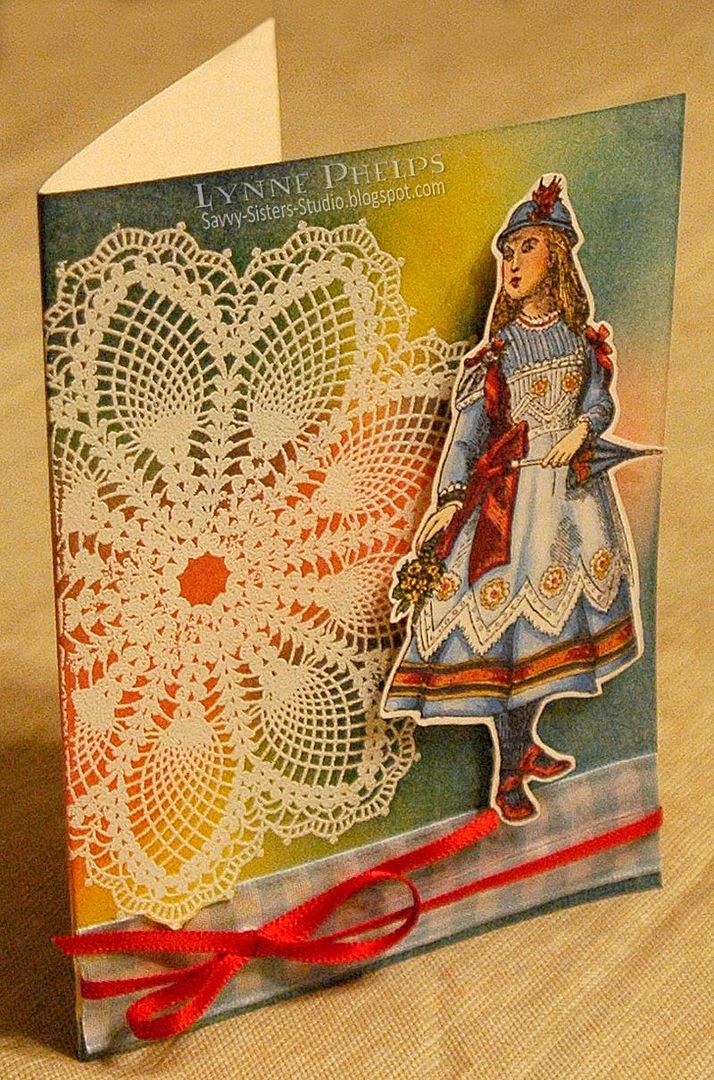 The challenge this month at
The Altered Alice
is to
show us your Sunday best
- ribbons, pleats, frills, lace; however you choose to interpret the challenge! The challenge is derived from this passage:
"After a time she heard a little pattering of feet in the distance, and she hastily dried her eyes to see what was coming. It was the White Rabbit returning, splendidly dressed, with a pair of white kid gloves in one hand and a large fan in the other: he came trotting along in a great hurry, muttering to himself as he came, `Oh! the Duchess, the Duchess! Oh! won't she be savage if I've kept her waiting!'"-- Chapter 2; Alice's Adventures in Wonderland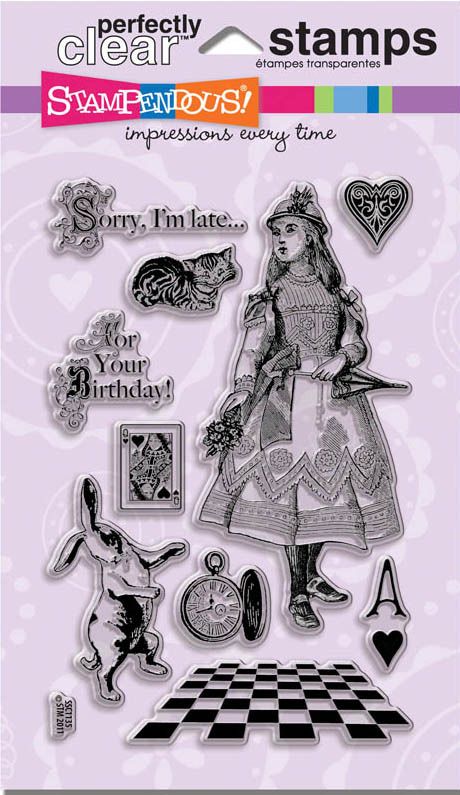 The Altered Alice design team is showing off the brand new Wonderland Perfectly Clear™ Stamps from our sponsor, Stampendous (Website | Blog).
This Alice is all dressed up from her shining shoes to the top of her hat, not to mention her frilly parasol! We will have
THREE winners
this month, and they will each receive the same Wonderland stamp set the design team is using!
I really enjoyed coloring Alice with Copic markers. I tried to make it look like she is wearing an organdy pinafore, so you see the folds of the dress through the sheer white fabric. I trimmed the Alice out, then began on the card base. I stamped a large lace doily stamp (Stampin' Up!) on ivory card stock with Versamark ink, then I used Stampendous White Detail embossing powder to heat emboss the doily. The raised embossing makes the lace look almost real! I stamped it before I folded the card, so it wraps around the back; I really like how that turned out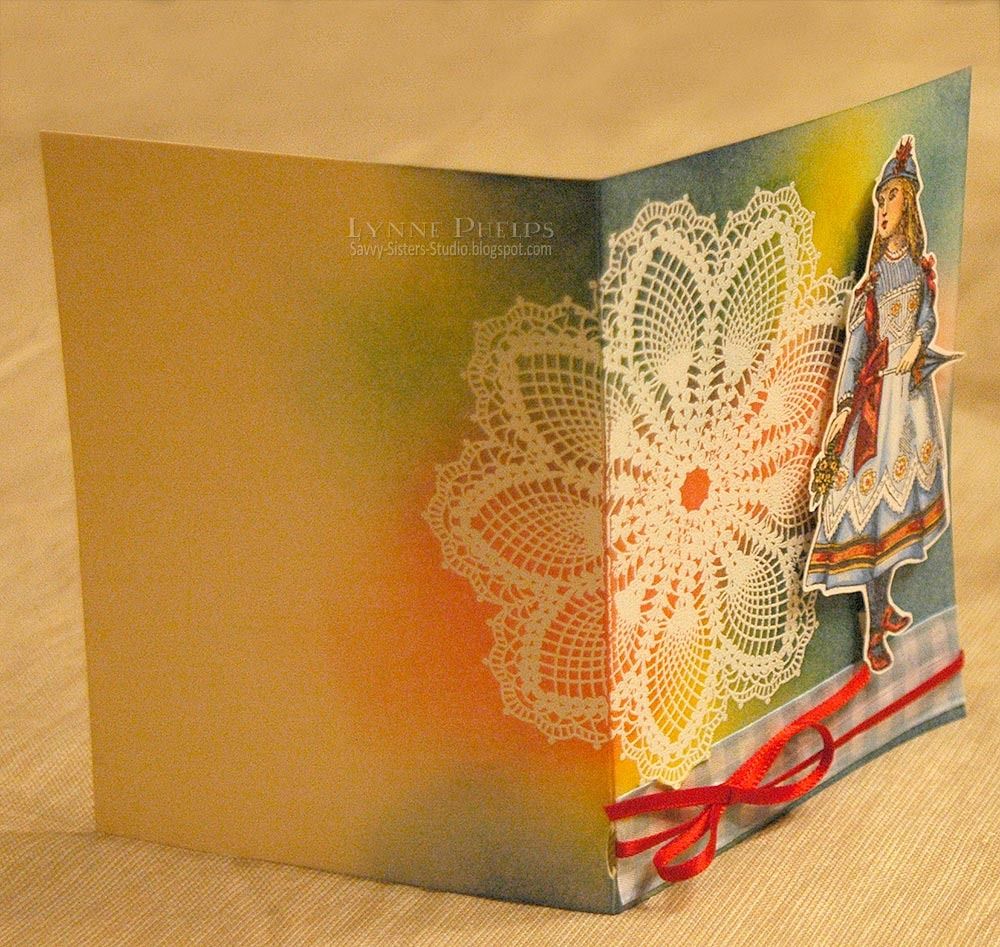 Then I used a Ranger Ink Blending Tool with various shades of Distress ink to make the doily stand out, creating a vivid background for the gorgeous Stampendous Alice image. I added blue gingham ribbon to create a ground for the figure, glued on with Fast Grab Tacky Glue. I cut a small slit in the fold to tie a red ribbon all the way around the card front.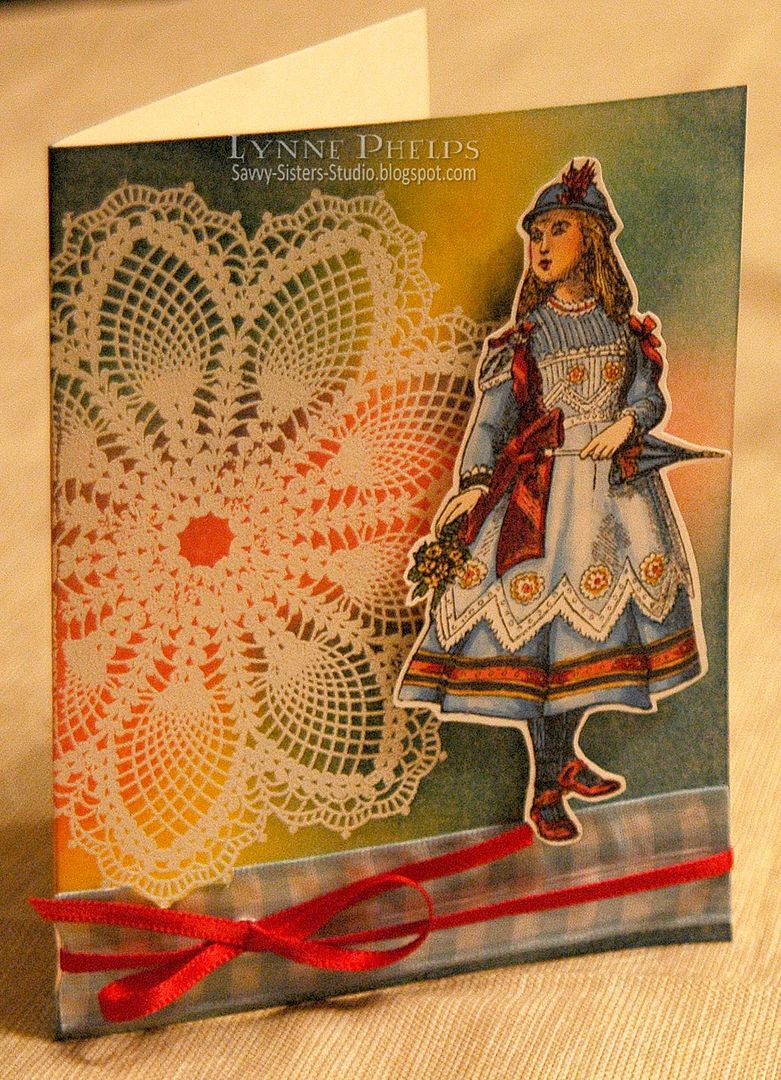 All in all, I am pleased with how this card turned out, but if I had it to do over again I would start with white card stock instead of ivory; the warmly colored card base shifted the sponged blue into a teal. I have another item I hope to share next week using more of the images in this charming Wonderland set!
You still have time to enter, so hop on over to The Altered Alice and show us your Sunday best! Enter by Friday, April 27, for a chance to win this wonderful stamp set!
There are some AMAZING entries this month, so be sure to take a look at all the wonderful submissions!
Please leave a comment, I love hearing from you!