You can take a dollar store frame and turn it into a wonderful gift by stamping on it! I have several examples here that I made for my niece, who is in the Chi Omega Sorority. Their mascot is an owl, and their colors are cardinal (red) and straw (yellow). Check out these charming picture frames ready to hold some of her favorite college memories!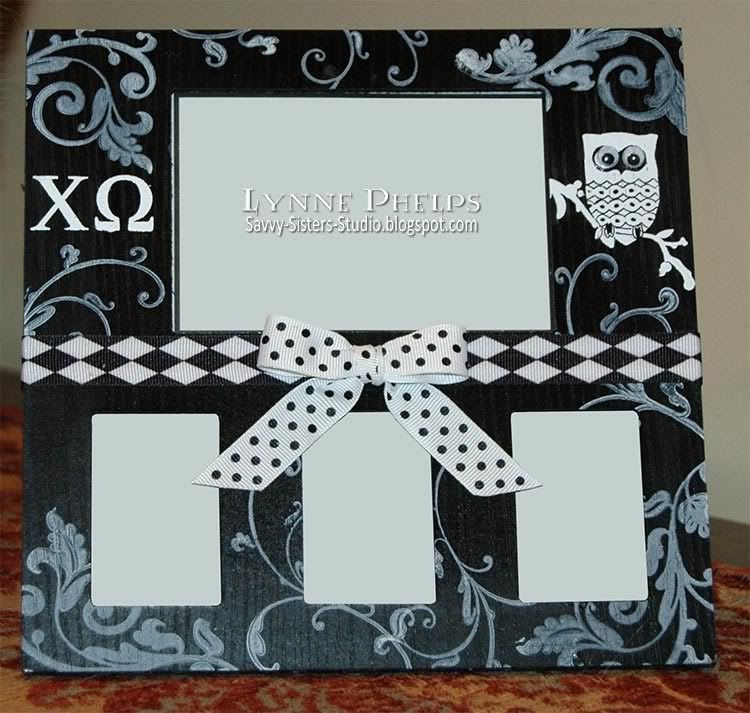 This first frame was from the Dollar Tree. It was really nice for the price - it is real wood stained black and has openings for four pictures. The great thing is the surface of the frame is perfectly flat - excellent for stamping. I stamped the owl (
Birds Galore 97625 - Inkadinkado
) and Chi and Omega Greek letters
(Greek WP32 - IO)
in white pigment ink and heat embossed with white embossing powder. Then I stamped my favorite flourishes
(Flourishes 97495 - Inkadinkado)
set all around the edges with white Stazon. Then I added some fun googly eyes on the owl and black and white ribbon to complete the frame. It is much cuter in real life than in this photo!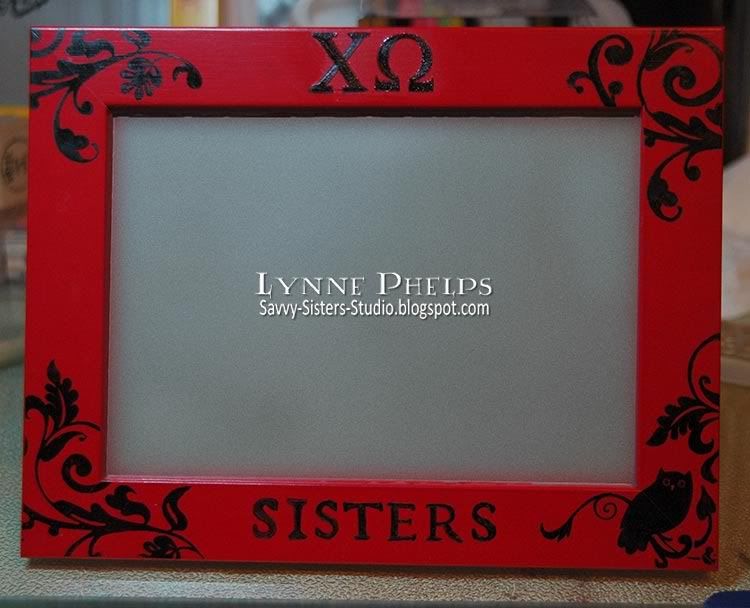 This frame is from IKEA, and its face is also flat - perfect for stamping! I used the same Flourish set as on the black and white frame, which also includes this cute owl on a flourished branch! The flourishes and owl are stamped with black Stazon. The Greek letters and the word "SISTERS"
(Alphabet set - Martha Stewart)
are heat embossed with black powder.
Another IKEA frame - they come in lots of bright colors! No embossing on this one - it is all stamped with red and black Stazon. The cute owls
(Hero Arts)
are from a little boxed set of wood mounted stamps.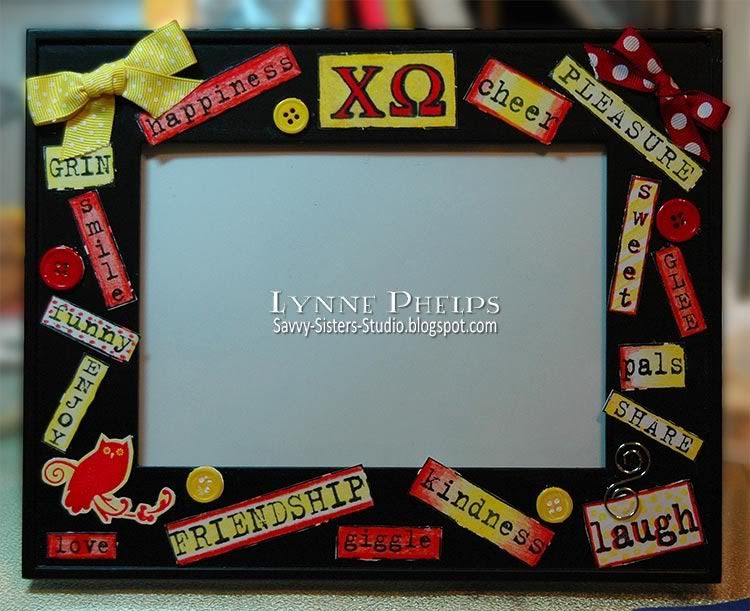 This one is different as the stamping was done on cardstock first. The frame is from Dollar General, and it has a raised rim. The area within the rim is flat, and I glued all kinds of words, ribbons and buttons. The words are all from a single large background stamp
(Word by Word - Stampin' Up!)
that I colored with Prismacolors and cut into separate words. One thing I would do differently is select a different glue - my tacky glue dried white rather than clear. :-(
Picture frames make wonderful gifts, and are especially fun if you tailor them to your recipient! It would be fun to do some for Mother's Day and Father's Day. Deer and nature sets or tools for Dad, Fashion or Flowers for Mom!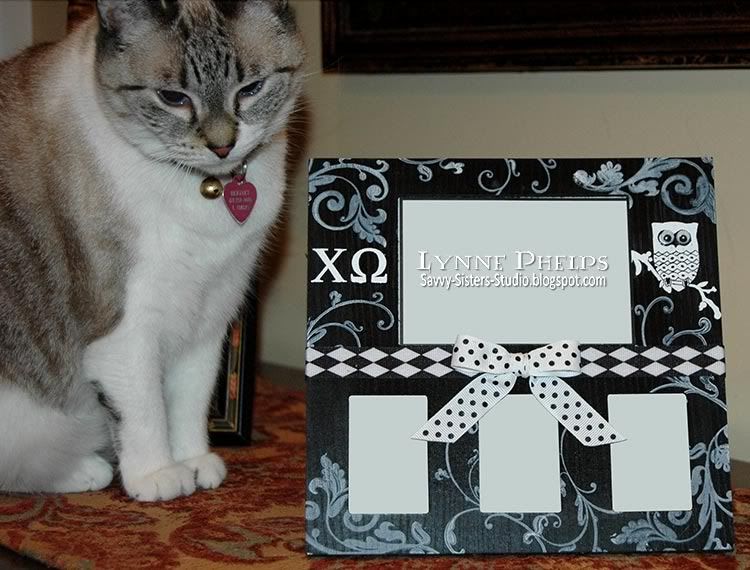 And just in case you were wondering, my feline photographer's assistants are still on the job! Beignet is scrutinizing the whole setup with an eye to every detail! Now you know why I crop my photos so closely, LOL!!!
Do you have any fun frame decorating techniques to share? Please leave a comment!