ETA: Edited to add that I've entered this card in the Flourishes Timeless Tuesday(FTTC55) to make, stamp or add flowers in some way. I think this Celtic Flower qualifies!
Welcome to the very first
Waltzingmouse Stamps Customer Blog Hop
. The theme is Spring, a welcome thought with all this cold weather. If you came here from Mona Pendleton's blog,
Cupcake's Creations
, then you are in the right place. If not, you may want to start at the beginning on Claire Brennan's
Waltzingmouse Makes
blog!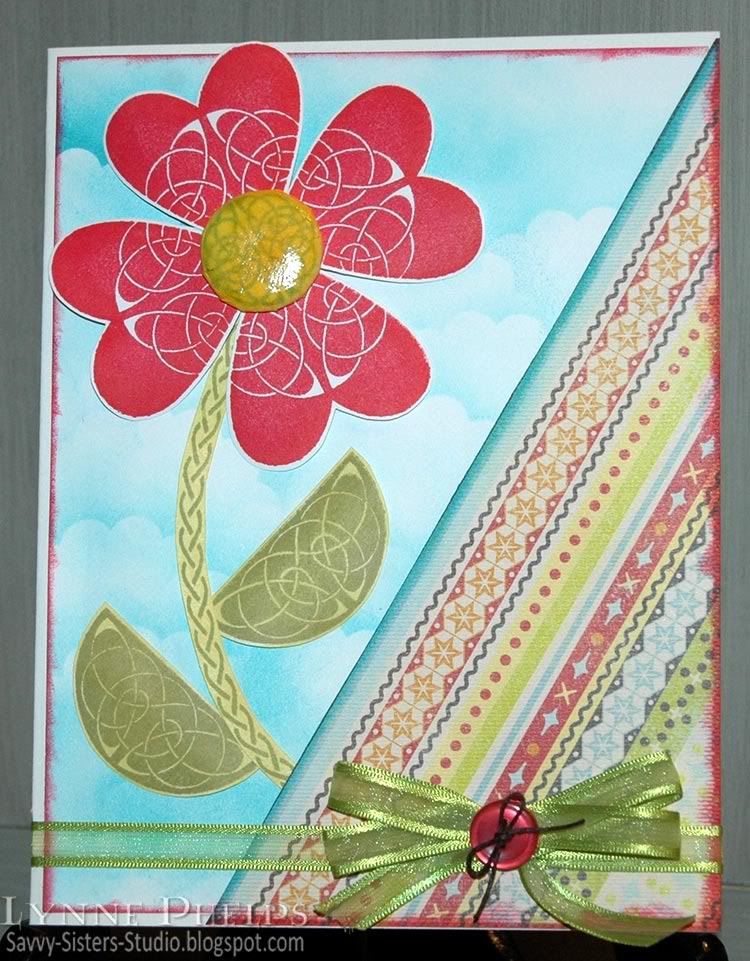 I don't have any of Claire's darling Spring sets - yet - so I turned to my all-time favorite sets,
Celtic Heritage
and
Irish Blessings
. I think you can find a way to use these sets for ANY occasion - I even used them for my
Christmas cards
last year!
I sponged Carribean Blue (Marvy dye ink pad) onto the white background, moving around a scallop circle punched paper as a mask to create clouds. I swiped the edges with a Crimson Lake ink pad
(Marvy)
and topped it with a patterned paper panel
(K&Company Mat Pack)
which also had edges swiped with Carribean Blue and Crimson Lake. Then I had fun creating my flower - I stamped the heart four times using Crimson Lake and "rocking and rolling" the edges with English Red
(Marvy)
. I stamped the solid lunette twice with Pond Green
(Marvy)
. I curved the beautiful braided border on the acrylic block and stamped with Pond Green to create a stem. The leaves and stem were sponged with Old Gold (Marvy) to make them more yellowy to match the patterned paper better.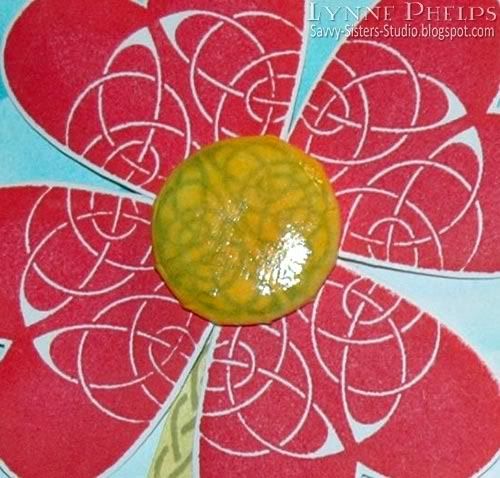 I used a 60% off coupon at Michals to purchase an i-Top brad making tool
(Imaginisce)
-what can I say, the price was right! It is a lot of fun, but be sure to watch their YouTube videos to get all the tips, it makes a big difference. I stamped the small lunette twice in Pond Green
(Marvy)
to make a full circle, then sponged it with yellow and gold. I cut it out with the template and then dampened the paper before using it in the brad maker. I covered it with Diamond Glaze
(Judikins)
to make it shiny. TIP - don't press your finger into it when you test to see if it is dry - just ignore that fingerprint!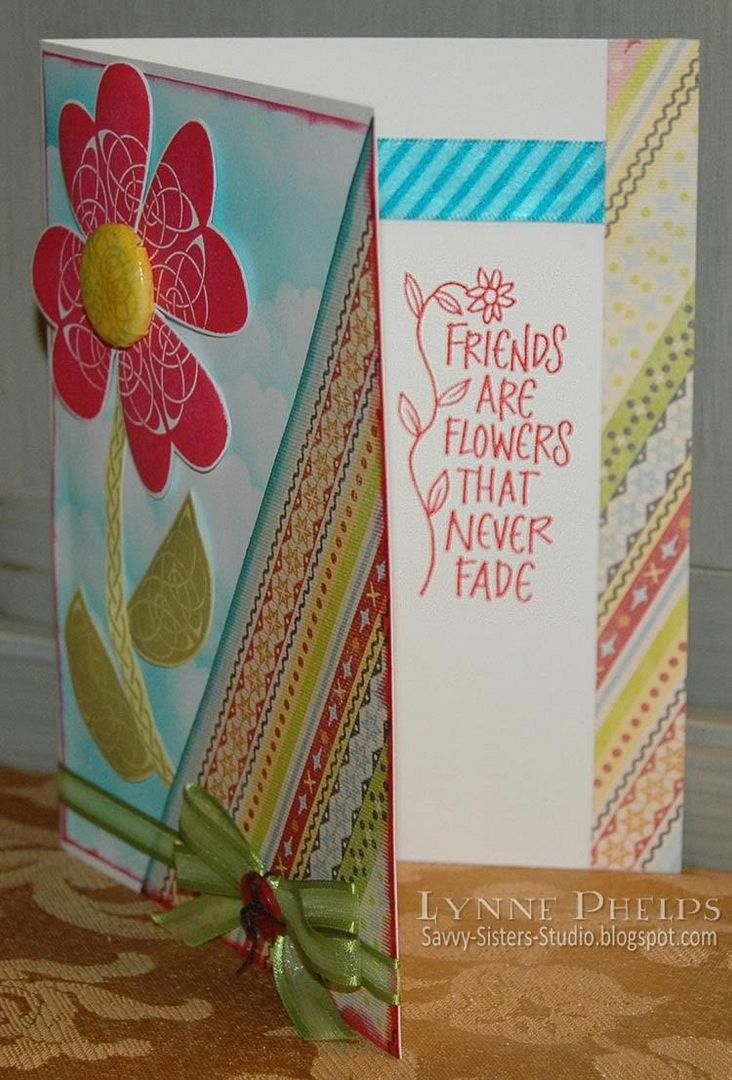 On the inside, I pasted a leftover piece of the patterned paper and a strip of striped blue ribbon. The sentiment, "Friends are flowers that never fade"
(Hero Arts)
seemed perfect for this happy card!
Your next stop on the blog hop is the Stamping With Val blog!
I hope you enjoyed my Celtic Flower! Please leave a comment - your comments are what make blogging fun. Thanks so much for hopping by!