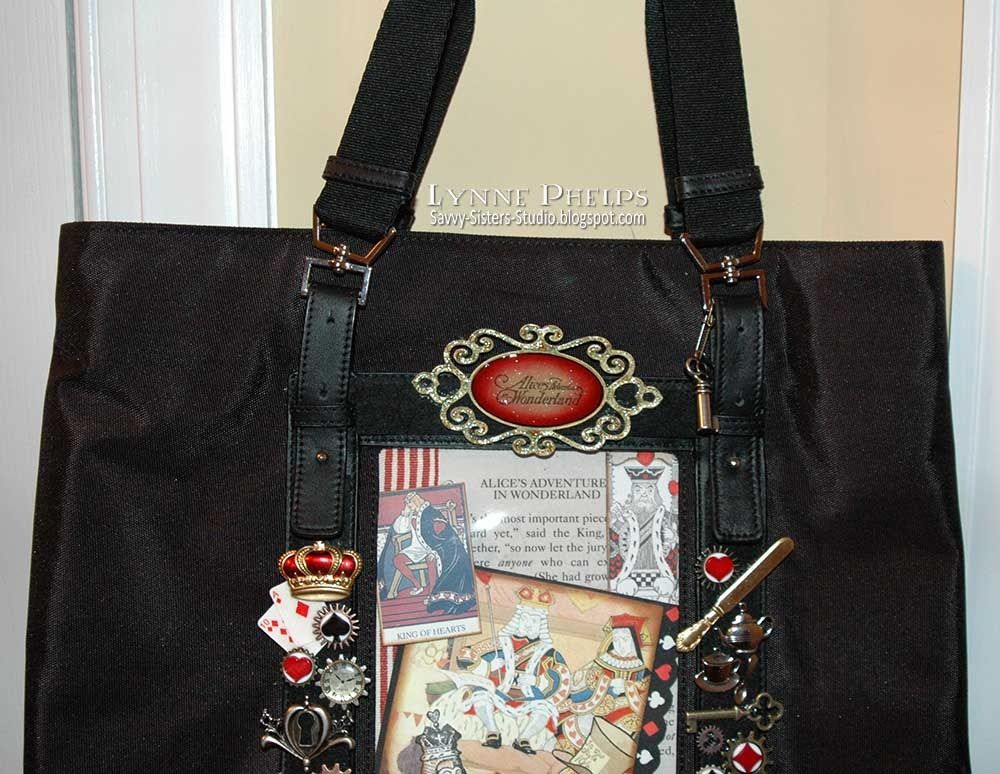 Daily Window Bags - Classic Tote
The challenge this month at The Altered Alice is anything goes, and we have been sponsored by Alpha Stamps, [Store | Blog]
, suppliers of amazing collage supplies, exclusive rubber stamps, and wonderful collage sheets in card stock, transparency and digital formats.
In the meantime, I was contacted by Daily Window Bags and asked to decorate two of their wonderful bags.
These bags are really special, as each has a clear window in one side made for stamped inserts! I love my bags; they are so well made and have beautiful apple green linings with pockets. I chose the
Eight Days a Week purse
and the
All Around Classic Tote
(plenty big enough for scrapbooking supplies of course), and naturally I wanted to decorate them with a Wonderland theme!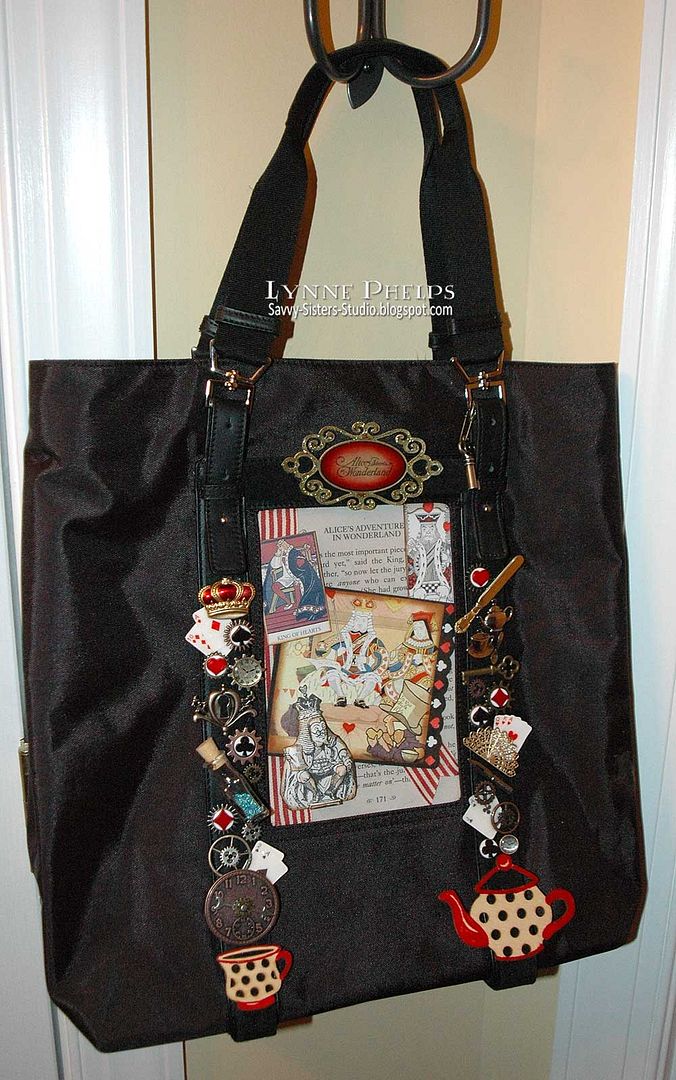 I decorated the straps of the All Around Classic Tote with all kinds of Alpha Stamps goodies,
glued with E6000 onto black felt strips which are affixed with velcro over the bag's stitched straps.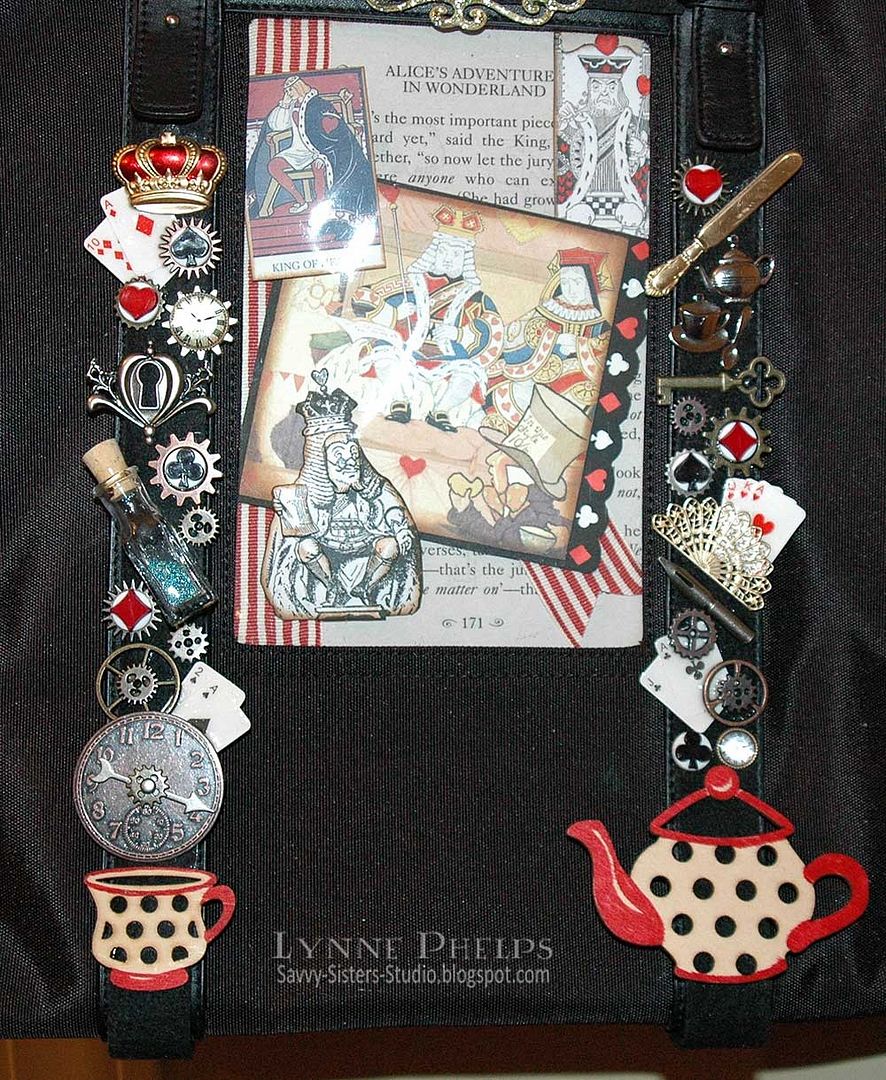 I had so much fun picking out items for the bag: there is a
royal crown
for the Queen of Hearts (red added to the brass with a Copic marker); the keyhole and
key
for tiny door into the garden; a
brass filigree fan
for the White Rabbit;
clock buttons
for the White Rabbit's and the Mad Hatter's pocket watches, a
brass butter knife
for the March Hare who tried to lubricate the watch with the best butter; small
silver-plated teacup, teapot and spoon charms
;
miniature playing cards
for the Queen of Hearts subjects; card suit buttons which fit perfectly into lots of
sprocket gears
and
mini-gears
to represent the Mad Hatter's clockworks; a
chunky corked bottle
with the "drink me" potion, a larger clock face and
game spinner
instead of hands because time is broken and it's always tea time at the Mad Hatter's, a large
wooden teapot and teacup
(handles and rims colored with a Copic marker), and an ornate
chipboard-reinforced label
at the top that is stamped with "Alice's Adventures in Wonderland" from the
Alice's Adventures stamp set
and then stickled and coated with Glossy Accents. A
wire pin
holds another key onto the bag handle.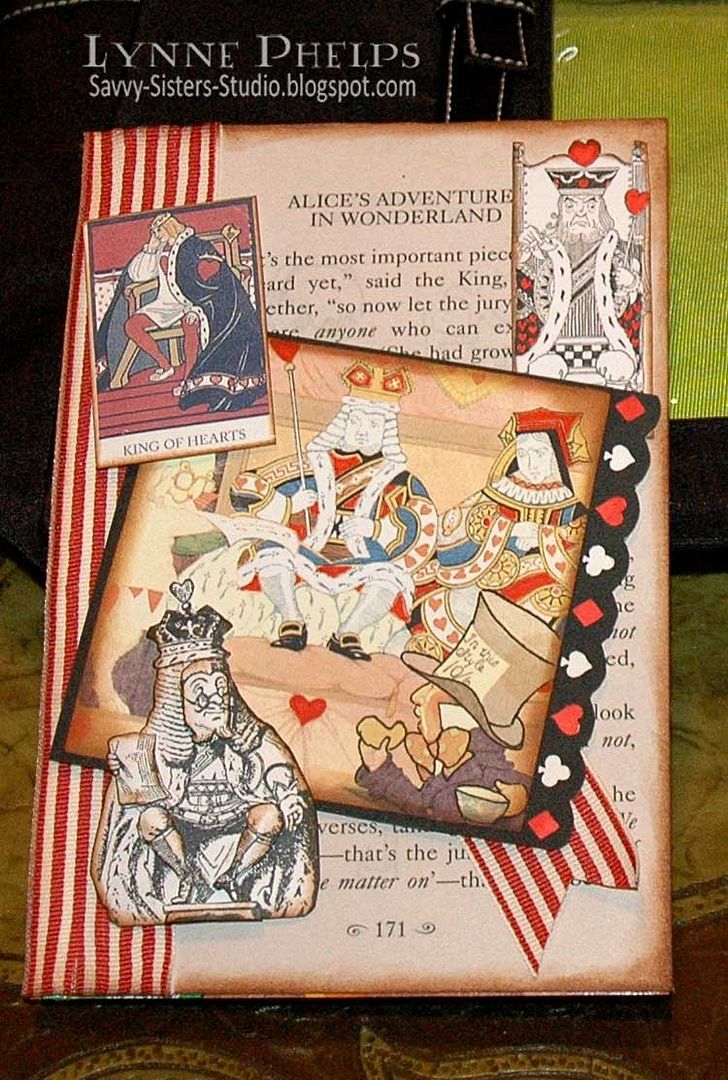 The inserts are a generous 5 3/8" x 7 1/2" size. I used recycled chipboard from packaging as a backing. The background is a page from last chapter of Alice where the King of Hearts is talking at the trial, which seemed perfect for my King of Hearts insert. Images from various collage sheets in their Alice in Wonderland section are in the background. The King of Hearts in the lower left corner is a stamp from the Alice's Adventures set, which has been stamped several times and layered for dimension. All has been sponged with Vintage Photo Distress Ink.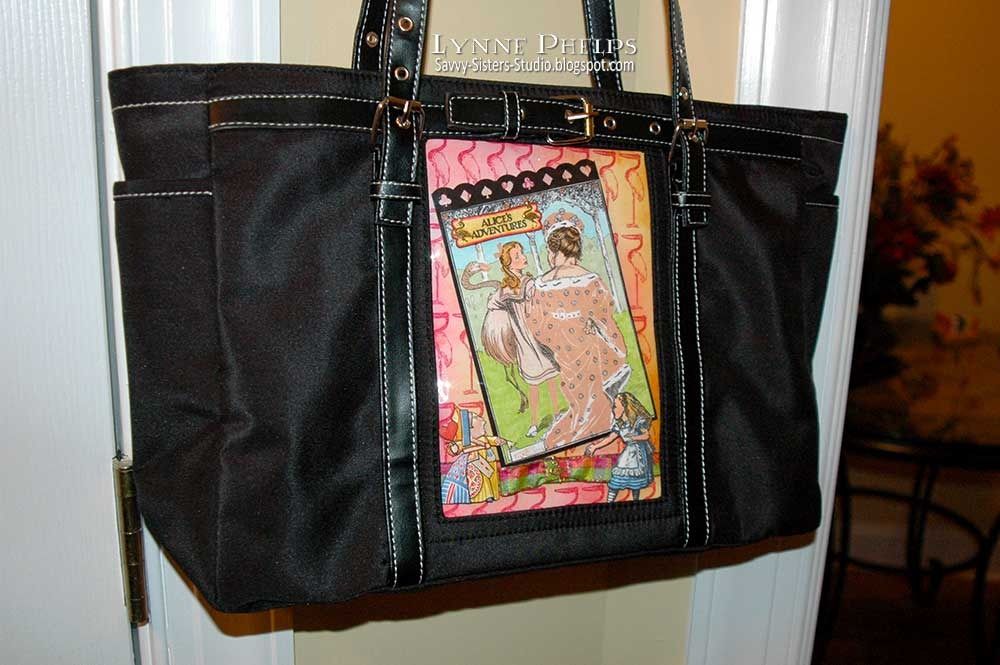 Daily Window Bags - Eight Days a Week purse
I love the Eight Days a Week purse;
the buckled straps add a lot of style, and the pockets on both ends are so useful for cell phone and sunglasses! For this window insert, I went with a flamingo/croquet theme. I made the background by stamping the row of flamingos from the Alice's Adventures set then sponging. I love how it turned out, and it is one of my favorite stamps in the set, so different.
I colored in an image from the "Alice Herself" collage sheet. The label is stamped and embellished with tiny brass flamingo charms, as is the ribbon bow at the bottom. The Queen of Hearts in the lower left corner is from the Alice Characters collage sheet, and Alice has been stamped and colored from the Alice's Adventures stamp set.
I LOVE these bags and you will be seeing them again in the future as I make many more inserts for them!
Because I glued all my embellishments on the tote bag to black felt strips which are attached with velcro, I can even remove the embellishments to display other themes. I would love to make some Christian-themed inserts based on favorite scriptures for example, or Christmas and other holiday inserts to celebrate the seasons!
Thanks so much to Alpha Stamps for sponsoring this month at The Altered Alice, and thanks so much to Daily Window Bags for introducing me to this fabulous product line!
Please leave a comment and let me know what you think about this project!